Commercial Real Estate Solutions
Real Estate Valuation Services
Independent, licensed, tech-enabled real estate valuation services.
SitusAMC is the leading provider of independent, licensed commercial real estate valuation/review services. Our team of 150+ dedicated, highly credentialed valuation professionals (CFA, CPA, CRE, MAI, AI-GRS, CCIM, MRICS and FRICS), is responsible for reviewing and consulting on $300B+ in institutional real estate assets quarterly and supports (45% of the NCREIF Property Index ($700 Billion), 2 of the 3 largest NFI-ODCE funds, 3 of the 5 largest U.S. pension funds, and 3 of the largest U.S. daily valued funds.
Our services are enabled by proprietary technology – VMS (Valuation Management System) - an innovative, end-to-end valuation management and support system featuring robust property and portfolio analytics.
SitusAMC's wholly owned subsidiary - SitusAMC Real Estate Valuation Services, LLC - is a SEC-Registered Investment Advisor (RIA) and Independent Fiduciary.
 
$1.6T
Of asset value supported in 2021
17K+
Reviews and appraisals completed in 2021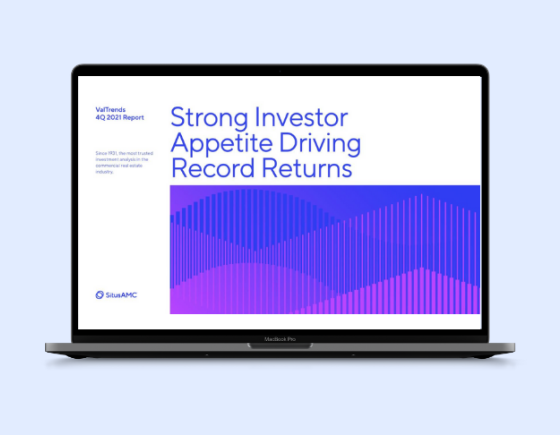 Research Report
ValTrends Q4 2021 Real Estate Report
Data-driven research providing valuable insight into valuation trends across the commercial real estate landscape.
Ready to Talk?
Provide your info and one of our professionals will reach out.