ValTrends 1Q 2022 Real Estate Report: Shifting Dynamics
Image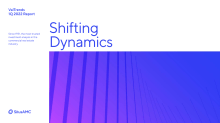 Download your Free Report
Following a record-setting 2021, dynamics are shifting in the commercial real estate (CRE) market. Returns and prices slowed in the first quarter, albeit from a blistering pace. CRE total returns likely peaked in fourth quarter 2021, though returns remain high relative to historical standards.  
Investors switched from a buy position in fourth quarter to a sell position for overall CRE in first quarter. With high prices relative to market uncertainty, investors deem overall CRE as having greater risk relative to return for the first time in a year.  
The 1Q 2022 ValTrends commercial real estate report, offering proprietary insights on valuation trends and space market fundamentals, as well as exclusive survey data on investor appetites for CRE, is available now. Access your free Report by filling out the form.