MBA Chief Economist Offers 2023 Forecast at SitusAMC Webinar
The coming is likely to see a slowdown in inflation, a weakening job market, and recession through at least the first half of the year, but housing will play a key role in recovery, according to Michael Fratantoni, Chief Economist with the Mortgage Bankers Association (MBA). He offered his forecast for the 2023 macro environment, housing market, interest rates and mortgage demand at the SitusAMC monthly MSR Assets Snapshot webinar on January 18.
"The housing market experienced so much weakness, particularly in the second half of 2022," Fratantoni said. "The typical pattern for the U.S. economy is that the housing market leads the broader economy into recession, but it also pulls it out. So we expect more of a rebound in housing than in the broader economy as we get into the middle of the year."
With the sharp and sudden changes in monetary policy to address rising inflation, index rate volatility is approaching levels not seen since the fall of 2008, he noted. But inflation is starting to moderate. The MBA expects the Federal Reserve to boost rates a quarter point at the end of January, and another 25 basis points in March, hitting a peak rate of 4.75% or 5%, and then holding steady through 2023.
"For better and worse, the fever has broken: headline inflation is down on a year-over-year basis, core inflation is down," Fratantoni said. "The recent trends are very, very positive." He added that inflation could hit the Federal Reserve's 2% target even faster than the MBA forecast, which expects a return to historic norms in 2024.
Unemployment will rise above 5% by the end of the year, he said, though the impact of job losses will be partially buffered by lower debt and higher savings. "From a balance-sheet perspective, households are in very good shape," Fratantoni explained. "Millions upon millions of homeowners locked in record-low mortgage rates in 2020 and 2021. As a result, debt relative to income is about as low as we've seen. So household debt service is very manageable, which is a real positive, even if confidence in the job market is likely to be shaken a bit over the course of the next year."
Despite job losses, demographic trends will continue propel demand. "One of the reasons we remain fundamentally positive about the housing sector is the demographics: this huge 50-million millennial cohort that is at peak first-time homebuyer age right now," Fratantoni said. "That sort of underlying demographic demand is going to support both the for-sale and the for-rent market (for) at least the next three to five years." (See chart.)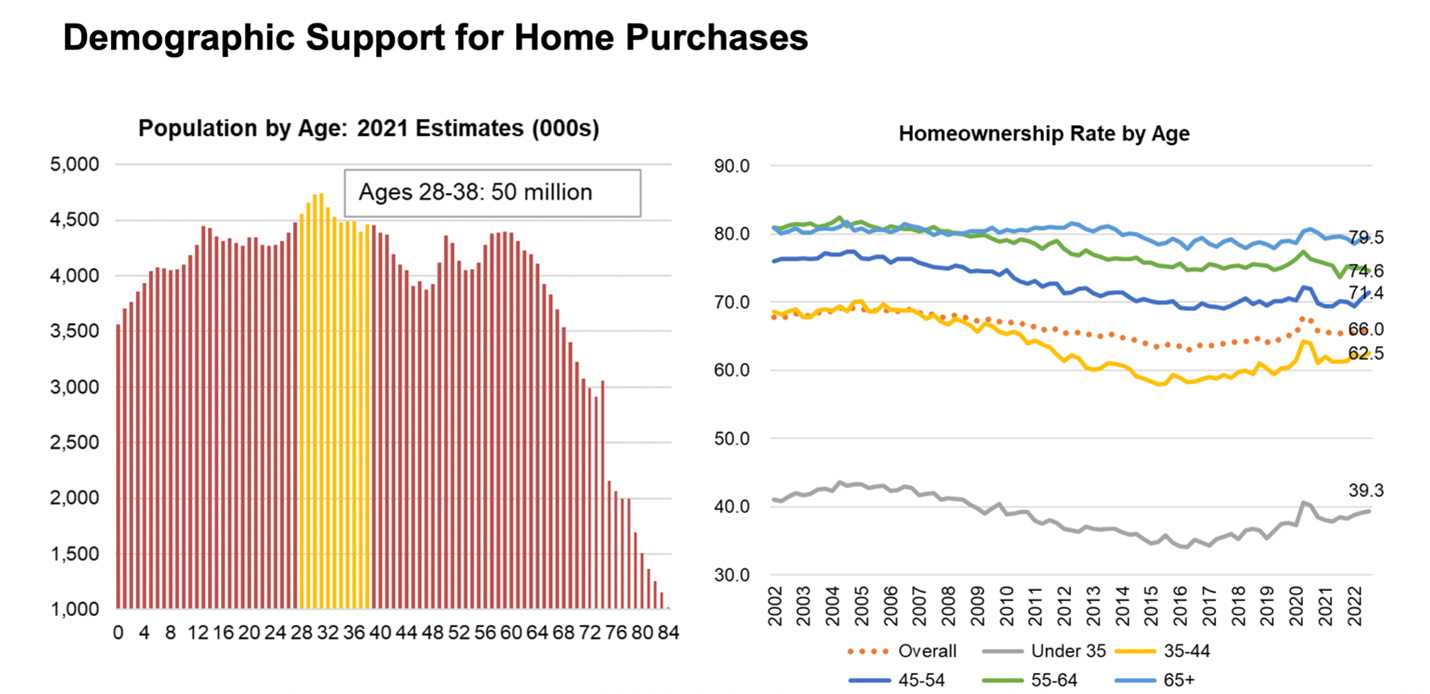 Meanwhile, supply remains low, and builders have pulled back on starts and permits amid recession concerns, offering concessions to clear units in their pipelines. Though home price growth may remain flat to negative this year, "I wouldn't be surprised to see new home sales begin to tick up, particularly as we get into in the second quarter," Frantantoni said.
As for originations, 2022 saw a 50% drop to $2.2 trillion coming off record levels in 2021. The MBA expects the slide to continue, with $1.9 trillion in originations this year. Growth is expected to rebound in 2024.
At the monthly MSR Webinar, SitusAMC shares critical data and commentary to help market participants manage, value, acquire and sell residential mortgage servicing rights. You can watch January's webinar here. Sign up for the February 2023 event here.