Income Migration Has Huge Impact on Investment Opportunities: Analysis
A new analysis of migration patterns during the Covid-19 pandemic -- focusing on the incomes of people who moved -- shows starkly different fiscal outcomes for states with similar population growth, with significantly higher tax revenue where high earners relocated. The data has profound implications for property demand, investment potential and economic health in these markets. 
SitusAMC and The Praedium Group examined migration patterns by income from 2019 through 2022 in eight states that traditionally rank high on investors' radar, including Texas and Florida. While those two states experienced similar migration, Florida enjoyed a nearly four-fold increase in wealth compared to Texas— $23.7 billion versus $6.3 billion, respectively, based on the latest available tax data. More remarkably, the surge of wealth into Florida in the tax year examined was driven in large part by high-income earners ($200,000 or more annually). One-quarter of the growth in Florida's tax returns came from that group, compared to just 8.5% of the growth in Texas returns. The other states analyzed include Arizona, North Carolina, South Carolina, Tennessee, Nevada and Georgia. (See Chart 1.) 
"Covid-19 accelerated the trend of people moving out of highly populated and less affordable markets like New York and California and into Sun Belt states," said Peter Muoio, PhD, Head of SitusAMC Insights. "But when we dissected that growth by income, we saw stark differences." 
CHART 1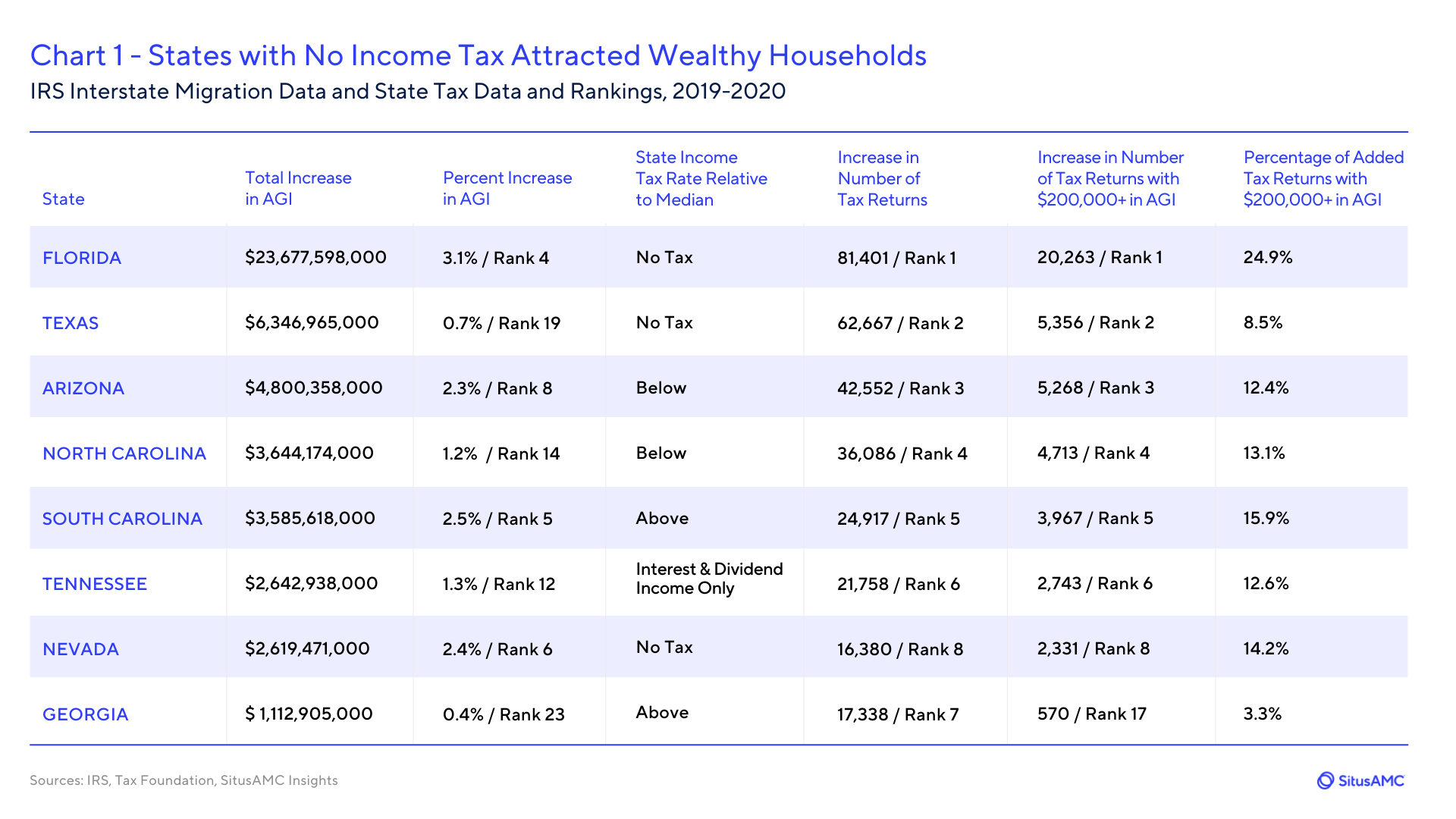 Higher-Earning Movers Influence Real Estate Demand and Economies 
Higher-wealth migration means demand for housing is likely to soar, especially for newer product, and commercial real estate also stands to benefit. During the pandemic, companies such as Blackstone, Goldman Sachs, various hedge funds, and multiple tech companies relocated their offices and personnel from expensive regions to the more affordable South Florida area. Some 158 Wall Street firms with almost $1 trillion in assets under management moved their headquarters out of New York City since 2019, according to study of 17,000 companies recently compiled by Bloomberg. A little over one-third relocated to Florida, while most of the rest moved to the Carolinas, Texas and other Sun Belt states. 
 "Many of these firms support high-paying jobs in the tech and financial sectors, which will likely generate more office and retail demand," Muoio noted.  
Consistent strong employment growth is likely a driver of migration to the Southern states studied, where job growth is above the national average. (See Chart 2.) However, "an influx of wealth is likely indicative of better jobs, which tend to offer more financial stability and often represent a wider range of industries than low-income jobs," said Jen Rasmussen, PhD, Vice President, SitusAMC Insights. "More diverse economies typically mean more stable economies, and steadier CRE fundamentals."  
With less reliance on a single industry, local economies are better positioned to withstand cyclicality and downturns that affect real estate fundamentals. "For example, Las Vegas and to a lesser extent many Florida market economies have historically been heavily dependent on tourism and construction," Rasmussen explained. "However, strong domestic migration, particularly that associated with high-income earners, will likely dampen the effects of cyclicality and increase economic diversity."  
CHART 2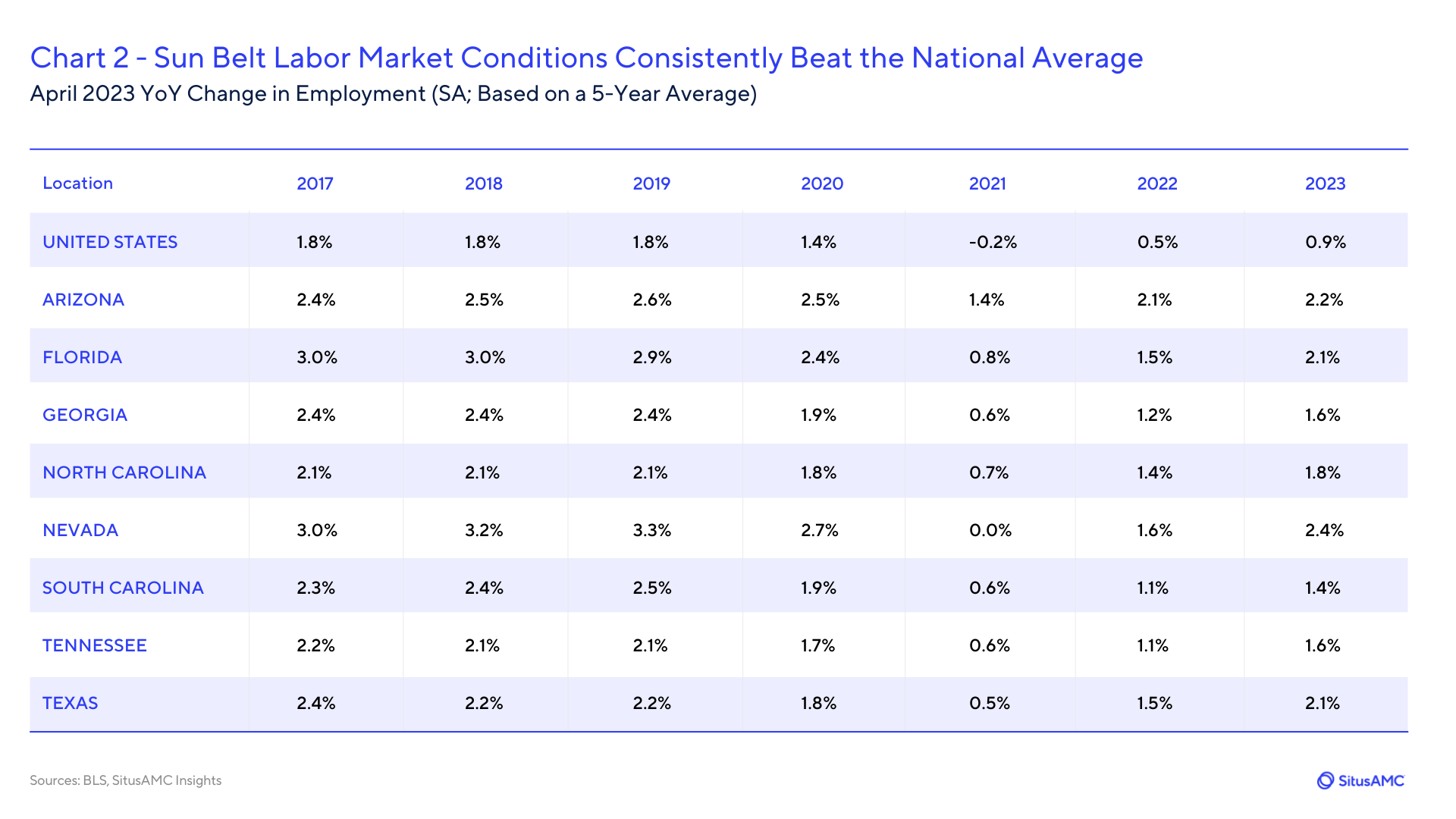 Taxes, Cost of Living Also Drive Migration  
A lower tax burden is another driver for relocation. The analysis examined total tax burden rates, which incorporate an amalgam of different tax types. Tennessee (7.6%), Texas (8.6%), Georgia (8.9%), South Carolina (8.9%) and Florida (9.1%) were among the states with the lowest tax burdens. Arizona (9.5%), Nevada (9.6%) and North Carolina (9.9%) had slightly higher tax burdens, but remained relatively attractive compared to the rest of the U.S.  
In addition, all of the Southern focus states are more affordable than the national average, except for Florida. Tennessee was the most affordable, with prices 9% below the national average. Florida is slightly less affordable than the national average, with prices just 1% higher. (See Chart 3.) 
CHART 3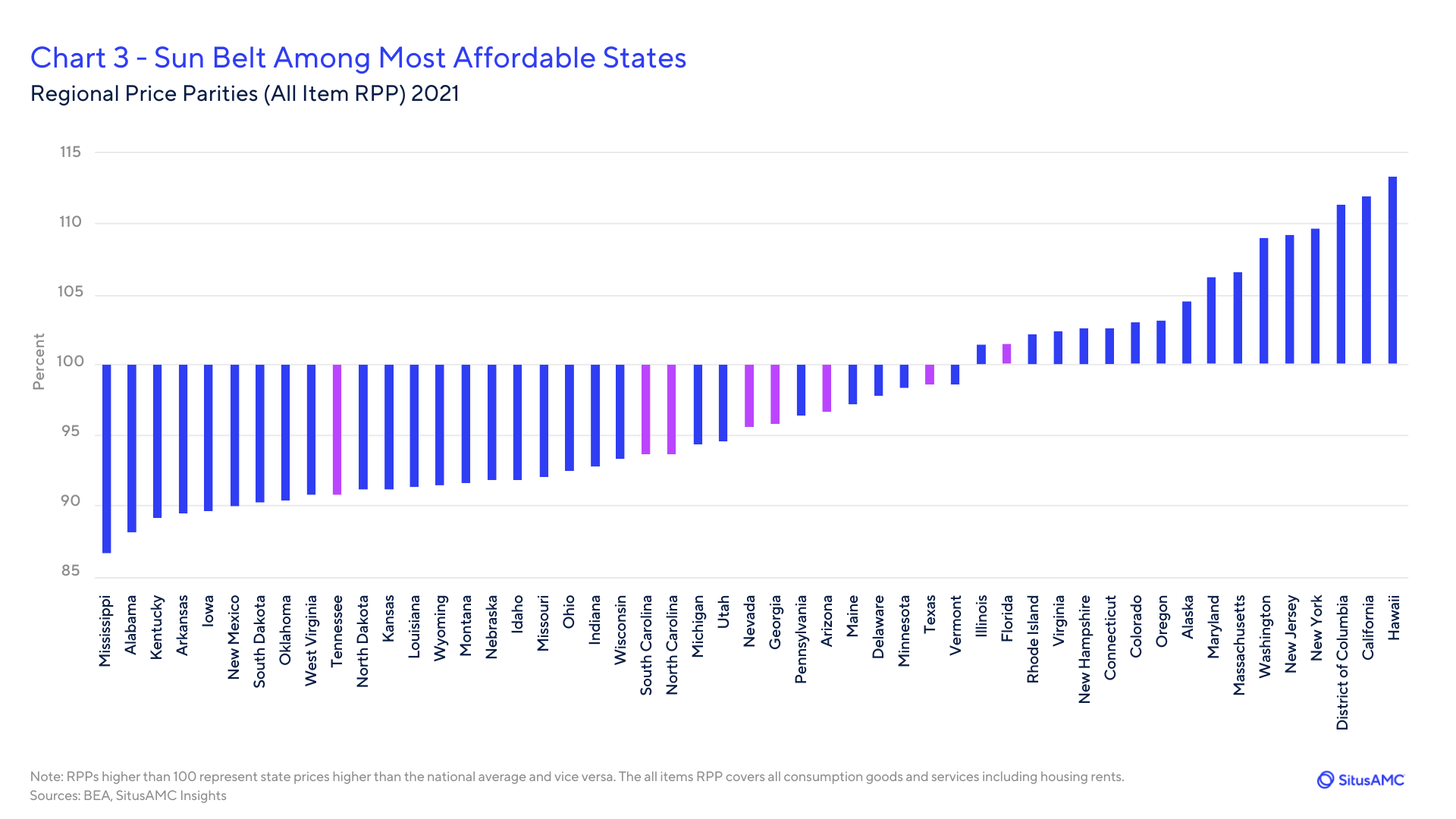 Which States Lost and Gained Population in 2022? 
The most recent Census Bureau figures show Florida exhibited the strongest population growth on a percentage basis and the second highest on an absolute basis, increasing by approximately 2% or 417,000 people year-over-year in 2022. Texas took the top spot in population growth on an absolute basis at over 470,000 and ranked fourth among the states on a percentage basis at 1.6%. North Carolina, Georgia, Arizona, South Carolina, Tennessee, Washington, Utah and Idaho rounded out the top 10 states on an absolute basis. In addition to Florida and Texas, Idaho, South Carolina, South Dakota, Montana, Delaware, Arizona, North Carolina and Utah grew the most on a percentage basis. The highest number of residents (on a net basis) moved from the New York-Newark-Jersey City metro, with 154,361 people relocating. Los Angeles came in second, losing a net of 86,948 residents; Chicago lost 66,833. (Chicago lost the high-profile hedge fund Citadel to Miami in 2022.) 
"Population growth has been, and continues to be, a valuable source of information in determining potential real estate demand," said Muoio. "But income migration provides a more textured picture of where real estate demand will grow, particularly for the residential segment. Investors would be wise to follow the money."  
Click the links below to view state comparisons: